Drinking Fountain Parts, Filters & Accessories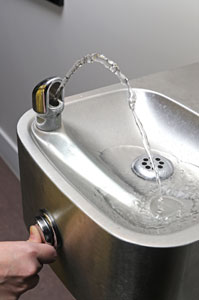 Puro Rabjohn Water Equipment has been manufacturing and offering services for over a hundred years. Our water quality solutions have been tested over decades. We perfectly bring together a proven technology with modern engineering solutions to all your treatment needs regarding individual equipment or whole water treatment systems. Our company initiates design and manufacturing of water treatment equipment – drinking fountains and water filtration systems that are perfect for domestic, commercial, industrial and municipal purposes to ensure efficient performance. Our equipment is significant with its excellent quality drinking fountain parts and accessories used in the systems. And in case you face problem with an existing drinking fountain, worry no more! We offer replacement parts for old and new drinking fountains and water coolers. We recommend you to avoid replacing it with another brand as this would lead to size or fitment issues. You may replace all your older damaged drinking fountain and water cooler parts with new parts and make all your Puro Rabjohn drinking fountains function like new. All our parts are quality crafted with less chance of breaking down. We strive for the best customer service and consistently gain the high ratings from our clients.
Puro Rabjohn provides replacement parts, filters and accessories for drinking fountains and water coolers with proper water filtration systems. Our set of qualified and experienced engineers and project managers customize Puro Rabjohn drinking fountains to carry out projects both big and small as well as systems with complex specifications. We have special parts and accessories departments that allocate parts for replacement, provide any components for the equipment, and even support customers regarding problems in the filter systems. We ensure cleaner, fresh, better tasting pure water for all our clients and their family. Your health and well being is our utmost priority!
We have the expertise to provide you with a full solution to your water filtration treatment needs. We additionally offer you comprehensive information on a complete selection of repair parts to aid water filtration problems and drinking fountain repair and retrofits. Please inquire today.  If you have any questions, our professionals are available to help you anytime!